Places To Visit
The Bougainvillea City - Ipoh
Ipoh, the capital of the state of Perak in Malaysia, is situated in the Kinta Valley which was once the richest single tin field in the world. The city is located halfway between Penang and Kuala Lumpur and has its fair share of tourist attractions.
The city also has an abundance of imposing limestone outcrops. These jungle-topped hills, with their precipitous white cliffs, riddled with passages and caves, many of which have been made into cave temples.
In the early days, Ipoh's citizens became wealthy on the backyard of the tin mining industry. In 1884 the Kinta Valley tin rush brought an influx of Chinese immigrants to Ipoh. Many made fortunes and built opulent town houses. You can admire these houses in the old town area, where the Indians are having a 'Little India 'of their own.
The Chinese have created what is now, one of the Malaysia's best-preserved Chinatowns, the Old Town. And, still the Ipoh coffee in Old Town is the best so far. Save praise for that coffee.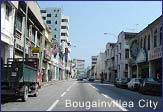 Perak Tong
Within the huge limestone caves of Gunung Tasek, 6km to the north of Ipoh, nestles the Perak Tong temple. Built in 1926 by a Buddhist priest from China, the temple houses over 40 Buddha. Beyond the main altar, a passage leads into the cave's interior. After a steep climb of 385 steps, the cave opens again to reveal a wonderful view of the surrounding countryside.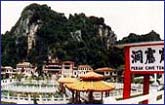 Sam Poh Tong
Another famous cave temple is the Sam Poh Tong temple, located in Gunung Rapat, 5km south of Ipoh. The temple is an impressive work of art and faith, with various statues of Buddha among natural stalactites and stalagmites. There is also a pond where visitors can feed tortoise, (symbol of longevity) with stalks of vegetables and a wishing well for those seeking better fortunes. Outside the temple is a vegetarian restaurant. The vegetarian restaurant is open daily for lunch only.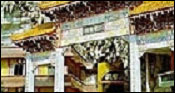 Kek Lok Tong
These picturesque structures nestled within the high limestone caves and cavities located near Gunung Rapat are a sight to behold. There are impressive works of art, with statues of Buddha in various forms among natural stalactites and rock formations. One can savour vegetarian food, served here at the temples, in peaceful surroundings amidst lotus ponds.
D R Seenivasagam Park
The fresh atmosphere and variety of flora are the main attractions of this park in Ipoh. Children can enjoy several recreational and amusement facilities such as the roller-skating ring, a playground and a mini-train course.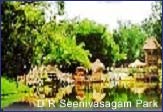 Darul Ridzuan Museum
It is located at Jalan Panglima Bukit Gantang Wahab, Ipoh and was officially open to the public in 1992. Among the interesting artefacts on show are the history and development of Ipoh and the mining and forestry industry of Perak. Among others it has been home to the Malay Chieftains of Kinta and the British rulers. When the British Administration took over the building, the British built several air raid shelters around the building. The museum is open everyday (including public holiday) except Sunday from 9.30 am to 5.00pm. Admission is free.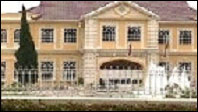 Tambun Hot Springs
A 15-minute minute from Ipoh towards Tanjung Rambutan brings you the foot of a limestone hill where a rejuvenating experience awaits you - an invigorating hot bath from a natural spring. The bath is open daily from 3.00 pm to 12-30 midnight. The facilities include saunas and restrooms. Entrance fee is RM4.50

Indian Temple
Cultural Hindu festivals such as Deepavali and Thaipusam are widely celebrated in Ipoh. Kallumalai Arul Migu Subramaniar, set amongst the limestone hills, is not to be missed.

Where to Shop
Shopping - Pasar Malam
Ipoh's popular shopping destinations include Ipoh Parade, Kinta City, The Store, Greentown Mall, Super Kinta, Yik Foong Complex, Ocean as well as many other smaller shops and stalls.
It is also interesting to visit "Pasar Malam" or Night Bazaar. Night Bazaar is a potpourri of sights and sounds, making it a fascinating experience of a truly Malaysian identity. Comprising makeshift stalls which stock anything from folk medicine and fresh fruits to household utensils and fashionwear, these night bazaars are a treat for the senses and a paradise for bargain hunters.
Business Hour: 6.30pm - 10.30pm
Monday - Ipoh Jaya (Ampang)
Tuesday - Ipoh Garden East
Wednesday - Stadium Perak
Thursday - Taman SPPK (Pangkalan)
Friday - Menglembu, Frist Garden
Saturday - Menglembu, Ipoh Garden East
Sunday - Cempaka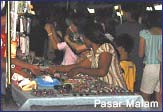 Where to Eat
'Sar Hor Fun' noodle
The most famous dish is the 'sar hor fun' or kuey tiow (rice) noodle. Although the kuey teow can be found in many other places, people believe Ipoh has the unique recipe that makes the noodle smoother, softer and tastier. Some people travel as far as satisfy their cravings. Many believe the clear pure water source from the mountains surrounding Ipoh is the main secret behind this special delicacy.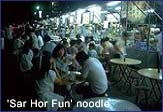 White Coffee
The White coffee also believes to be originated from the old town in Ipoh. The owner of one of the oldest restaurant in old town have managed to blend the unique taste of the white coffee by mixing the conventional and new method of preparing the coffee powder.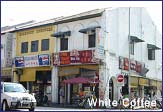 Mee Goreng
Fried noodles unlike any other in the world, prepared in typical Malaysian fashion - with a dash of spice, a dose of hospitality and plenty of lip-smacking taste!

Old Town Rojak
Rojak is our local salad. Put in all cut fruits in a mixing bowl, add in the sauce ingredients and mix thoroughly. Dish mixture onto a serving plate. Garnish by sprinkling pounded groundnuts over the mixture.
Claypot Chicken Rice (Nga Po Fan)
Claypot Rice - Rice cooked in claypot with chicken, Chinese Sausages and salted fish. This is the famous claypot rice formerly at Ipoh. Taste is a little salty, though. This famous claypot chicken rice stall was situated near the Bercham Main Road. Business hour is from evening until midnight.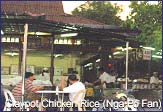 Local Delight - Pomelos
A trip to Perak isn't complete without a taste of pomelos and seedless guavas. Pomelos are seedless citrus fruits usually the size of a soccer ball, and are grown exclusively in the state. Other succulent fruits include seasonal rambutan, mangosteens, mangoes and durians.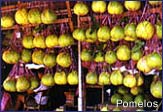 FMS Bar & Restaurant
The FMS (Stand for Federated Malay States) Bar & Restaurant was founded by a Hainanese immigrant in 1906. Considered to be one of the first in Malay, it was frequented by European miners and planters. The design is a typical late 19th century chinese style shop house.
Other Places to Eat
- Medan Selera Stadium Perak
- Gourmet Square at Ipoh Garden,
- Hawker Food Stalls at Ipoh Garden East
- Medan Selera Stadium Perak on Jalan Stadium
- Jalan Wei Sek Gai (Menglembu)